POP the Champagne
It's your lucky day, take advantage of this EXCLUSIVE Umiko Watercolor Sale,
- for a limited time only we're giving away upto 30% off coupon codes for our brushes on Amazon.com
How Many Discounted Umiko Watercolor Set Would You Like?
The More You Get, The More You Save!
This Offer Won't Last Long So Take Advantage of it Right Now!
Where Should We Email Your Coupon Codes?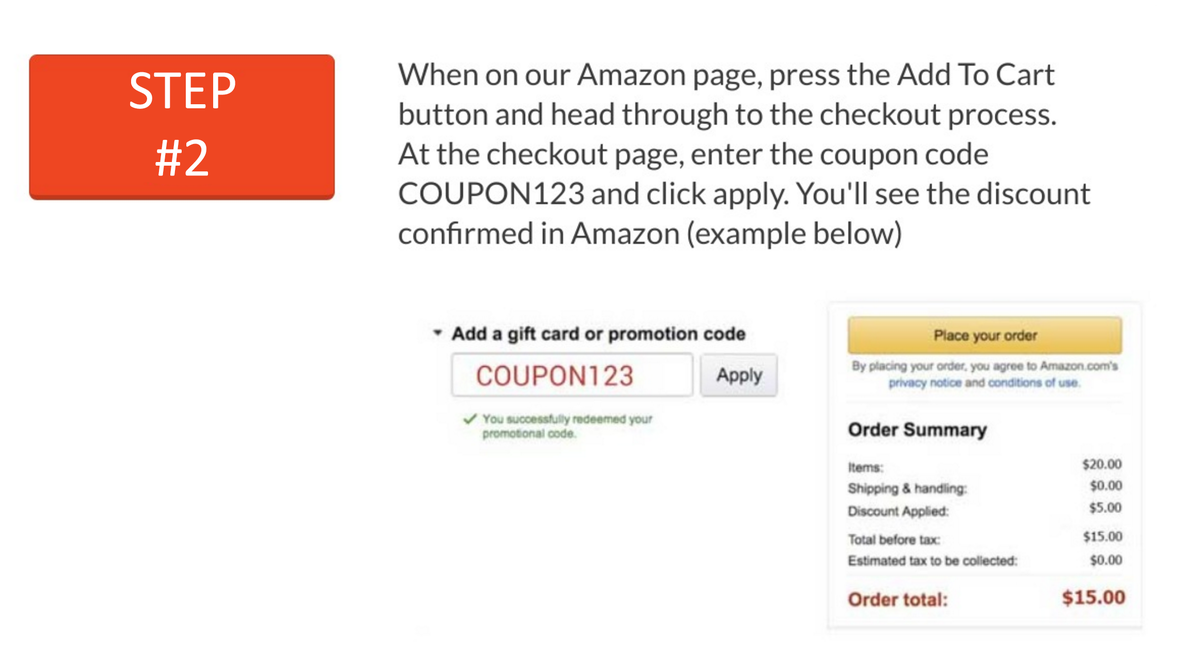 Click Place Your Order & Wait For Delivery
We Will Be Sending Tips & Tricks You Can Use on Your Email.
Don't take our word for it, use Umiko Watercolor set for 30-Days & if you don't love them you will get your money back guaranteed - No Catches - No Hidden Fees | Add to Cart Now!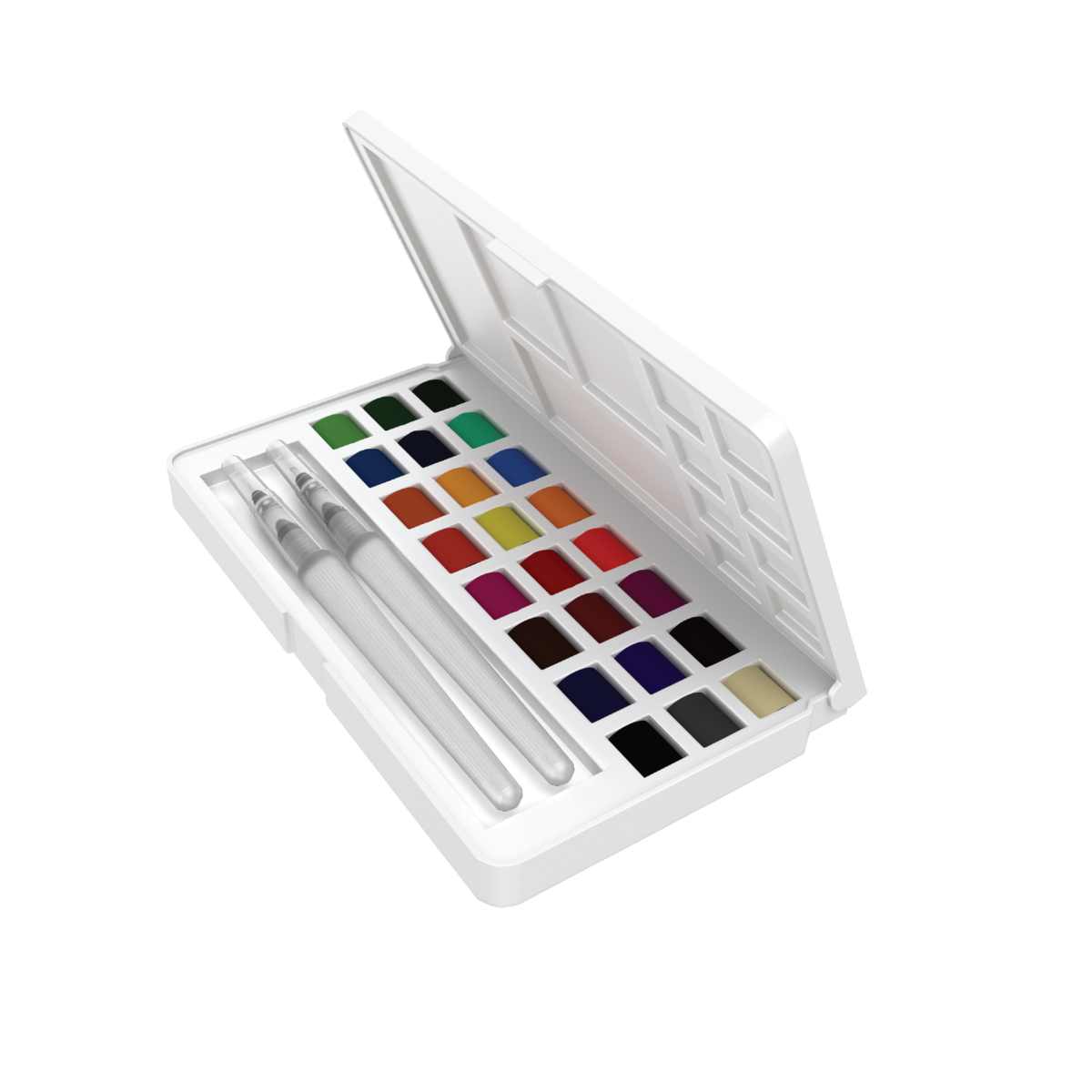 Umiko Watercolors have a higher concentration of finely grounded pigment with high permanence ratings. Artistrove Watercolors are #1 In terms of permanence, intensity, and superior transparency.
With Umiko Watercolors, painting landscape or cityscape has never been easier.You can paint in any genre including the vibrant abstracts and sharp photorealist painting
This set is the only thing you need when you travel. Lightweight and Compact. Watercolors Paint Paired with 2 sets of Water Brush and a mixing palette that is included in this kit you are set to paint wherever you go.
Use Artistrove water brushes be your magic wand to guide your best work. Weather watercolor painting, pencils, or ink is your forte, Artistrove water brushes will be there to help you create beautiful paintings.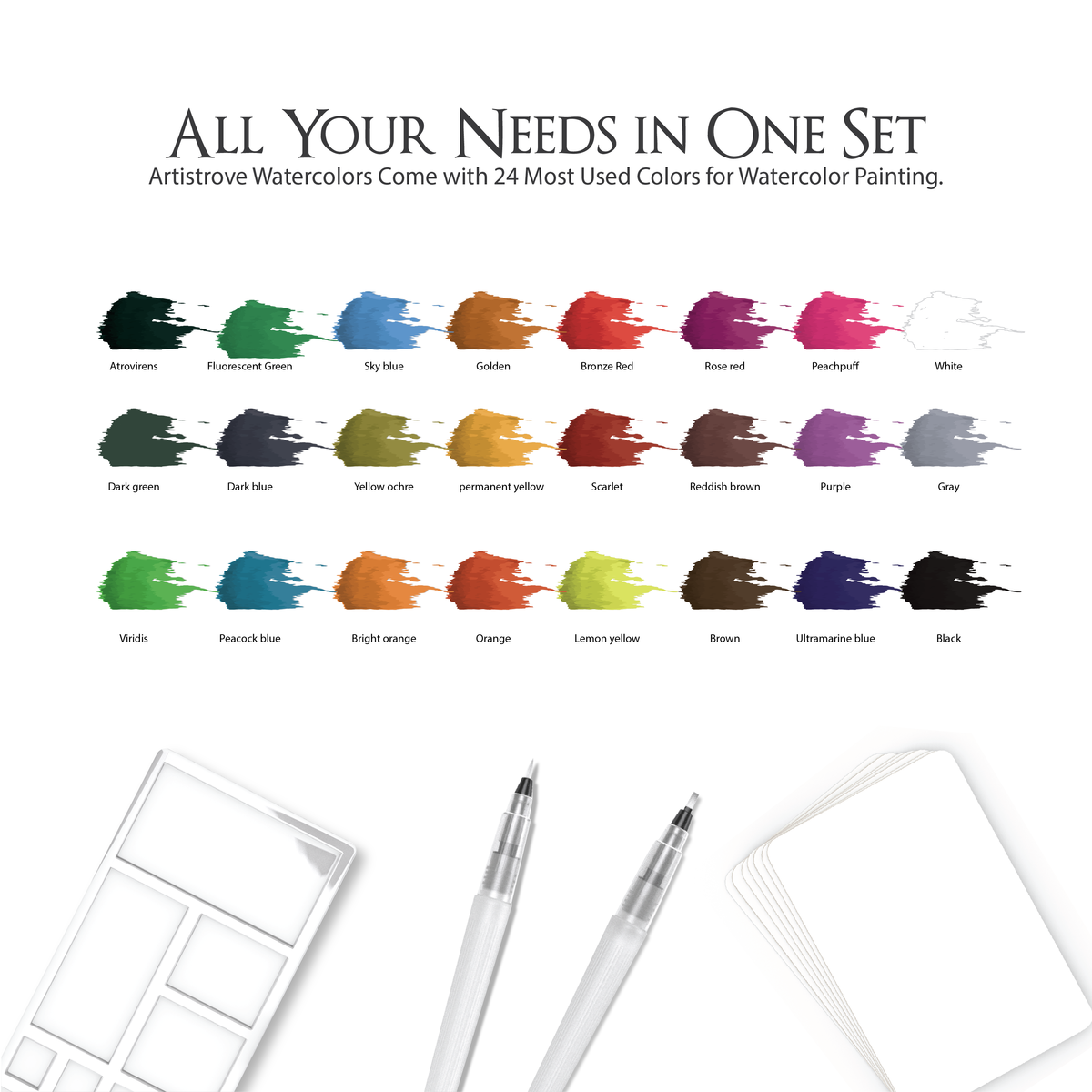 ​ WHY YOU SHOULD USE UMIKO WATERCOLORS?

♥ Beautiful vivid colors with great texture and easy clean up.

♥ Size makes it PERFECT for trips, hiking, and quick setup and cleanup at home.

♥ Only water needed is in the brush and lasts forever depending on size of art paper.

♥ Tiny pallet included, can paint all day without having to worry about cleaning.

♥ Top can be used as small tripod for painting .

♥ Lightweight, and miniature size, but able to produce large and professional work.
THE PERFECT GIFT FOR AN ARTIST
Umiko Watercolor set can make for the most appreciated gift for every artists and generally everyone that loves painting! Great also for Birthdays, Christmas & all other Holidays!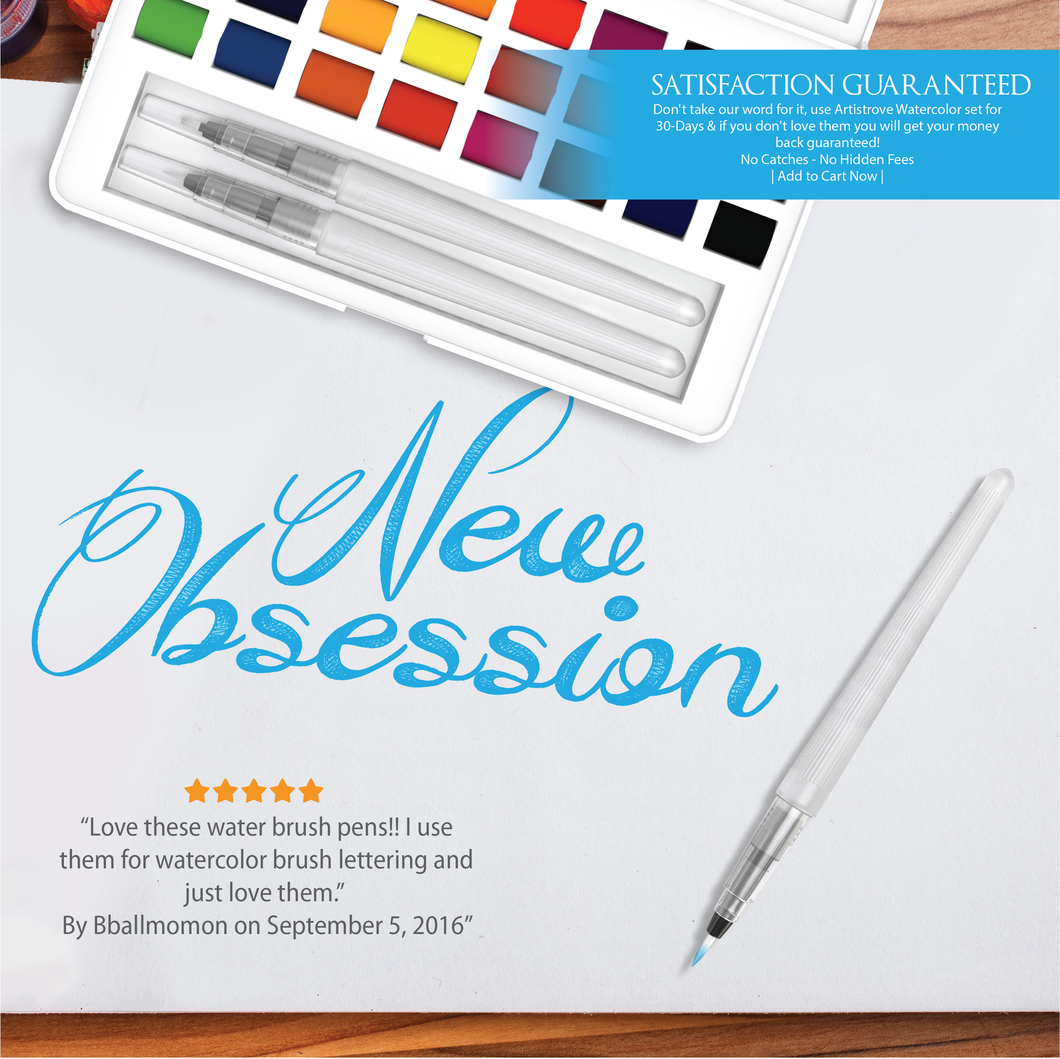 The colors are amazingly vibrant and blend seamlessly! They are so good for watercolor calligraphy and that's what I'm using mine for, but of course they work for traditional watercoloring as well. Some people have said they aren't artist grade, but with the price it is completely understandable that you aren't going to get Winsor and Newton watercolors. They're great, simply put.
- Deni (Amazon Customer)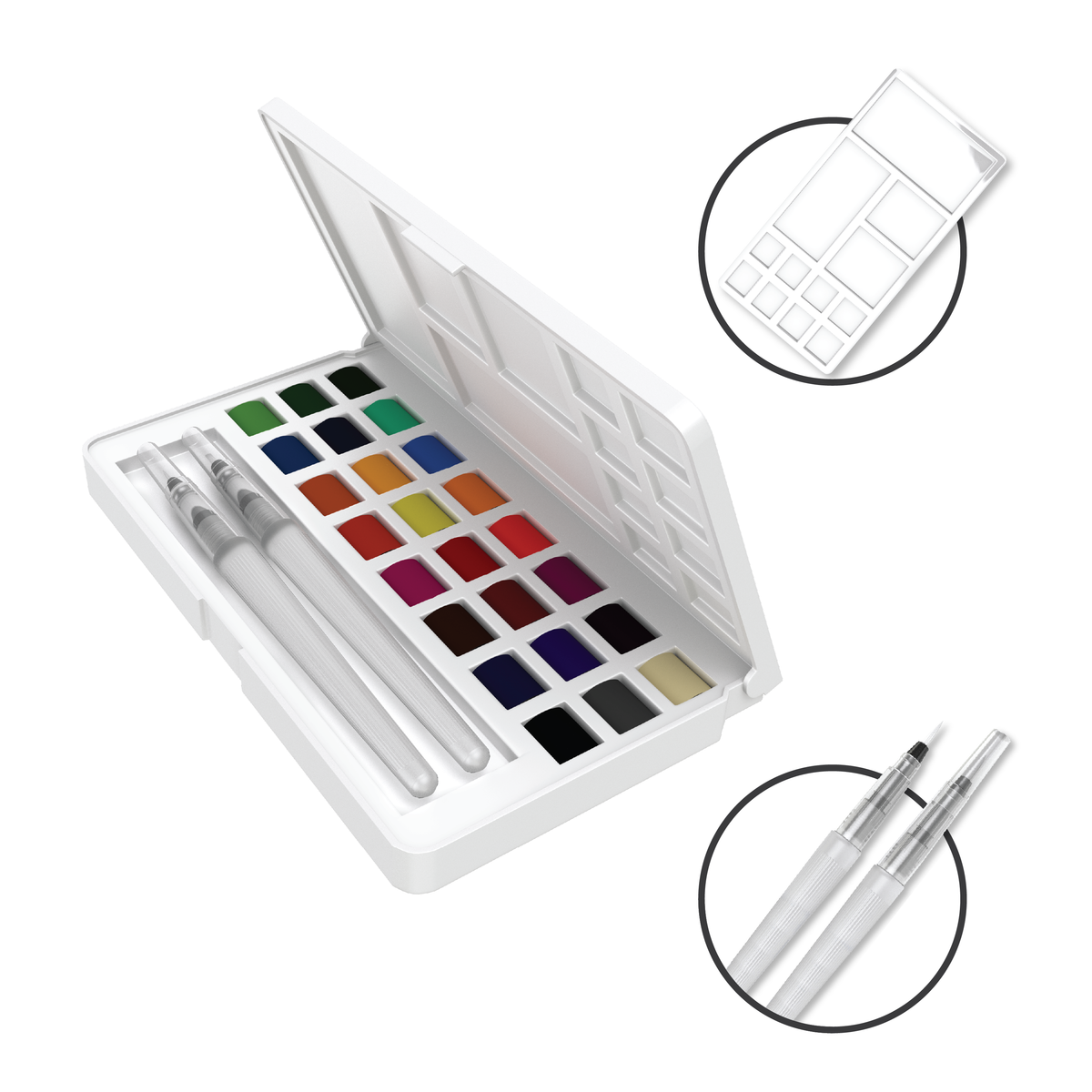 24 ASSORTED AQUARELLE COLORS
2 WATER BRUSHES (2 UNIQUE TIPS)
MIXING PALLET (REMOVEABLE PALLETE)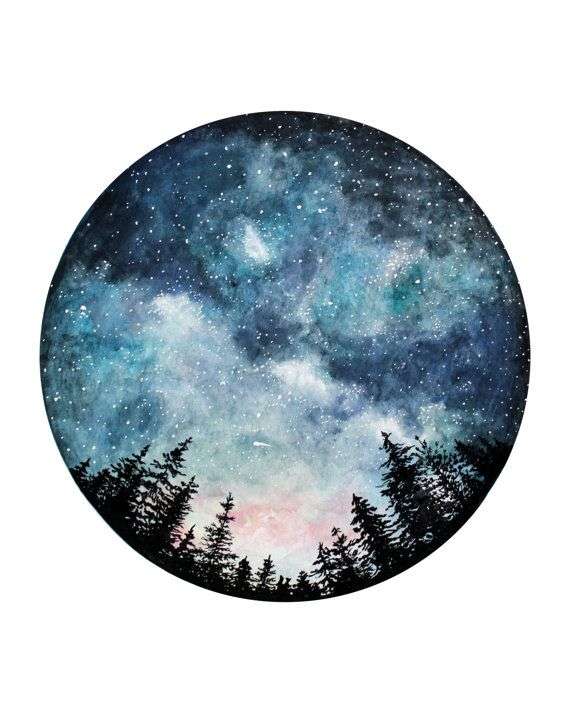 WHATEVER YOUR FORTE IS,
OUR WATERCOLOR IS RIGHT FOR THE JOB!

No matter what the work load is Umiko Watercolors will make the job 100% easier.! Umiko Watercolors has good selection of colors and are really that vibrant and you will love them. Some brands will charge you up to 2-3 times as much for this level of quality.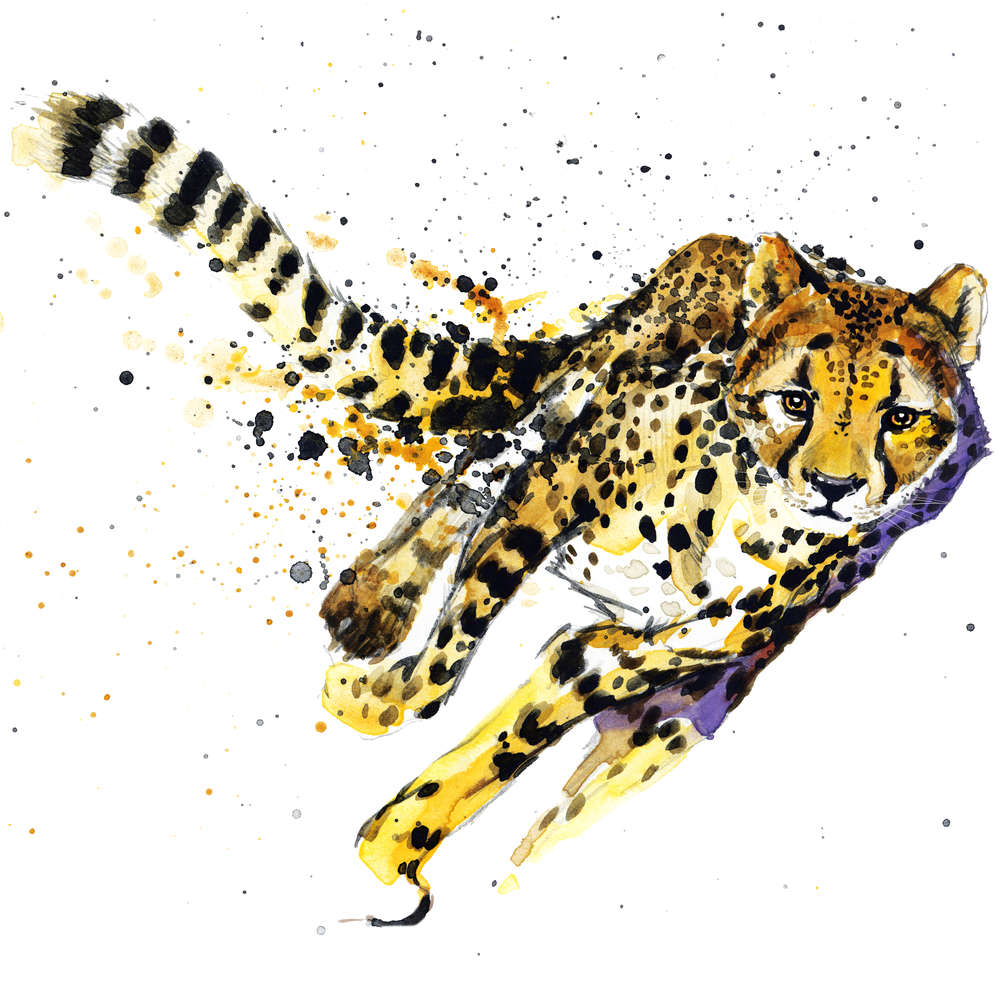 Great quality and price. Perfect for beginners who don't want to deal with mixing tubes with water. Also good for experienced artists who need a take along set for working outside the studio. Vibrant colors and easy clean-up
- Valentine (Amazon Customer)


"DON'T FORGET--THE MORE YOU BUY, THE MORE YOU SAVE"